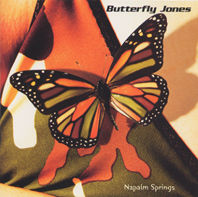 Ever wonder what happened to dada? Their last album went virtually unnoticed by the record buying public (which is a shame, since there were a number of great songs on it), and the band eventually called it quits. But fear not, dada fans. Former dada frontman, Michael Gurley and drummer Phil Leavitt are back, this time as the core of Butterfly Jones--a new group that's as modern as it is nostalgic. Featuring a bevy of strong guest performances from Mark de Gli Antoni (Soul Coughing), Julie Ritter (ex-Mary's Danish), and former dada bassist Joie Callo (who sings backup on "Sophie"), Napalm Springs is an immediately catchy assortment of trippy Brit-rock melodies, resolute rock rhythms and introspective lyrics.
Gurley explains the album best. "It's a contemporary rock album, but it definitely has a lot of different flavors," Gurley says of Napalm Springs. "We pooled from all our influences. There's Led Zeppelin and the Beatles, but there's also little homages to Cole Porter and more modern groups like Nirvana. To me, 'Sunshine and Ecstasy' sounds like the Association meets the Who at a Las Vegas rave. It's just a really eclectic record." It's also a very hopeful album. "There's a lot of reflection on this record about difficult times and coming out on the other side of it. Don't worry though, there's plenty of twisted sarcasm and cynicism on there, too, but overall it's a more upbeat record than I've ever made."
OK, enough of all this talk, let's get to the music. The title track is one of the best on the disc, with all the things that made dada such a great band--excellent musicianship & production values. It's one thing to have a great song, but when it sounds great as well, it's even better. "Suicide Bridge" features a string section (similar to The Verve's "Bittersweet Symphony"), a catchy chorus, and great guitar work from Gurley. "Anywhere But Now" is the first single from the disc, and another great song.
"Alright" is a textbook dada tune (similar to tracks like "Here Today, Gone Tomorrow" or "Bob the Drummer," etc). It's readily apparent how much Gurley & Leavitt contributed to the dada sound by listening to this song. "Are We in Love Again" fits the bill as well. A string section sets the perfect stage for the beautiful and reflective ballad, "Wonder." "Sunshine and Ecstasy" takes things to the opposite end of the spectrum, sounding like a cross between The Beach Boys and The Who.
"The Systematic Dumbing Down of Terry Constance Jones" is another highlight and a typical quirky/humorous dada-type tune. Once again, Gurley (one of the most underrated guitarists around) turns in some outstanding fretwork. "When People are Mean" and the feel-good tune, "It's Cool, Dude" are perfect for all the wannabe hippies out there, capturing the California mentality perfectly. Napalm Dreams quietly comes to a close with "Please." The song's lyrics and glimmering harmonies bear a striking resemblance to the sounds of Simon & Garfunkel and Harry Nilsson.
Contemporary yet retro, innocent yet intelligently sarcastic, Napalm Springs is a consistent record from start to finish. Butterfly Jones has emerged as a thing of rare beauty--a rock band that dabbles in hope and happiness, with just the right amount of thought-provoking cynicism to keep the sap factor in check. If you're a dada fan, or just the type of person who appreciates great guitar licks, clever lyrics and smart production touches, you'll love this disc. Don't be the last on your block to discover this band.