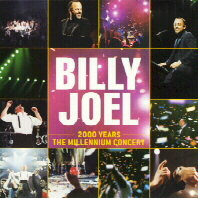 For years now, Billy Joel has been threatening to quit rock & roll and go into a classical career. Judging by the performance on his new double-CD, and to quote the man himself, "this is the time." Recorded live at Madison Square Garden, Joel treated (or subjected, depending on your point of view) the hometown crowd to a set of 35 songs--24 of which appear on 2000 Years. For all intents and purposes, Billy Joel's creative peak came in the late 70's, and with a few exceptions, he's been fizzling out ever since.
There are a few high points on his new album, but most of the time he's oversinging and turning the songs into a much larger production than is necessary. There are entirely too many musicians/singers onstage for much of the show. Does he really need seven backup singers on "Big Shot?" Of course not. "The Ballad of Billy the Kid" (one of his all-time best songs) suffers from too many horns. Speaking of the horn section, they sound horribly out of place on just about everything except "Big Man on Mulberry Street"--one of the few high points you'll find on these two CDs.
You're probably wondering about the low points. Well, I won't list them all (we do have space limitations here), but here's a rundown of some of the worst. "Movin' Out" sucked when it was released in the first place. Did anyone really think it would sound any better now? Ordinarily "New York State of Mind" is a high point in the set. Not here. Sure, he has Rich Cannata come in and reprise his sax solo, but unfortunately Billy feels the need to overdo the vocals--to the point where it sounds like he's in pain by the end of the song.
Right before "I've Loved These Days," Joel says that it's the first time he's played it since 1976. Maybe if he hadn't blown his voice out earlier in the set, he wouldn't have had to lower the key to sing this one. "Only the Good Die Young" starts with Joel telling the crowd "after this song, you have 15 minutes to have a whiz." Very professional, Billy--especially on the CD. "I Go to Extremes" was one of the piano man's few decent songs of the late 80's. Unfortunately, here it's marred by a generally lame performance that Joel tries to cover up by oversinging again.
The next highpoint is "Goodnight Saigon." This was one of the few tracks (along with "Big Man on Mulberry Street") that actually surpassed the original. The only other high points to be found are "Prelude/Angry Young Man" and a cover of "Honky Tonk Women." Enough high points, let's get back to the low points. "Auld Lang Syne" is awful. Someone should've given Joel a monitor so he'd be able to tell when he's offkey. But wait, it gets worse. Up next--the undisputed low point on the CDs, "River of Dreams." The backup singers hit all the high notes for him; then all of a sudden, he starts screaming like a wild banshee. He throws in a verse from "Land of 1000 Dances," but even that can't save this song from being just short of six minutes of pure torture.
I could go on, but I'm sure you're getting the point. It's a shame that someone with Joel's potential has to subject his fans to a third-rate live album like this one. It would've been better if he had just released an EP with the few good songs on it and called it quits on a positive note. If you want to hear Joel at his best in a live setting, check out Songs in the Attic. It doesn't get any better than that.