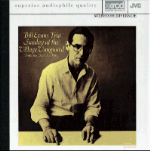 In the last two years, there has been an enormous amount of Bill Evans material released. With all that material, it's almost impossible to say which is the best. However, few would disagree that Sunday at the Village Vanguard is dangerously close to the top. All it takes is one listen to this album to find out why. You find yourself absorbed in it without realizing. This is one of those albums that forces you to listen to it again and again.
The interplay between the trio that night--Evans on piano, Paul Motian on drums, and Scott LaFaro on bass--was sublime. It's as if they knew they had something special. Tragically, Lafaro was killed in a car accident just 10 days after this recording took place. The six tracks that made it to the album emphasized LaFaro's innovative style of playing.
JVC Music recently released an audiophile version of this album, and the results are outstanding. Using their XRCD technology, JVC has created a CD with better sound quality than ever before in an aluminum disc. You can read all the specifics in the booklet. I'll just say that it sounds great.
But great sound isn't all there is to this CD. The XRCD disc looks as good as it sounds. Beautifully bound in a hardcover book, the CD features a high quality reproduction of the cover art, the original liner notes, plus the ones that appear in the OJC reissue, and all of the technical information on the manufacturing process.
Getting back to the music, the songs appear in the original running order, with the alternate takes at the end (instead of following each track, as on the OJC disc). To these ears, it makes for a more enjoyable listening experience that way. Sunday at the Village Vanguard is an essential part of any jazz collection. These timeless recordings capture the trio at their best; and thanks to JVC's XRCD technology, they sound better than ever.

TRACK LIST:
Gloria's Step (take 2) * My Man's Gone Now * Solar * Alice in Wonderland (take 2) * All of You (take 2) * Jade Visions (take 2) * Gloria's Step (take 3) * Alice in Wonderland (take 1) * All of You (take 3) * Jade Visions (take 1)