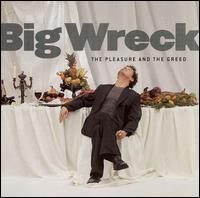 Everything about Big Wreck, from the vocals to the guitars to even the songs themselves is big. Hailing from the equally big city of Boston, the group combines hard rock antics with old-fashioned basics. The Pleasure and the Greed includes a whopping sixteen songs in its latest rock repertoire. But the follow-up to 1997's In Loving Memory Of…, The Pleasure and the Greed holds true to the adage, bigger is not always better. What sets Big Wreck apart is lead singer Ian Thornley. His rich vocals, comparable only to STP's Scott Weiland, run deep and cut right through you. Unfortunately, there isn't a single track on the CD that matches quality with the vast quantity of material.
"Inhale" is the first single, but it doesn't get under your fingernails nearly as much as older Big Wreck tunes like, "The Oaf (My Luck Is Wasted)" or "That Song." The next three songs stay with the full throttle approach to rock. It isn't until track five that we get to take a musical pit stop with the less abrasive "All by Design." The next tune, "Mistake," shows the quieter side of the band. Nap time doesn't last too long though. The band is back in full rock gear by the time they unleash the near hair-bandesque "Ladylike." The song scores points for originality by successfully attempting the unthinkable--incorporating banjos into their otherwise rock oriented mix.
The title track includes some of the musical highlights of this otherwise overgrown weed of a collection. This song is part playful, part rocking, but all oddly melodic. "Ease My Mind" is another offering of the experimental realm with echoes of now defunct experimental greats Jellyfish thrown in now and again. The final product complete with filtered vocals, has more of a circus feel that sounds like an impromptu jam session instead of a strong song in itself.
Big Wreck's cup overflows with The Pleasure and The Greed. Remembering that less is often more might prevent Big Wreck from going super sized the next time around.