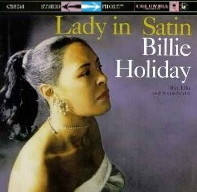 I've gotta admit, the first time I heard this album, I couldn't understand what all the fuss was about. Here's a record that's pretty much universally hailed as one of the best jazz albums of all time, and my first impression was little more than depressing Muzak. Especially when you read the liners and see how Holiday thought this was the best album she ever recorded. Then I listened to it again. And again. Suddenly something clicked and I was being drawn in. Sure, her voice was shot by this point; but there's an aching, tormented quality in these songs that only Lady Day could bring to them.
Musically (for anyone who hasn't already heard the album), the material ranges from depressing songs of longing and rejection ("I'm a Fool to Want You"), to beautiful love songs ("For Heaven's Sake," "It's Easy to Remember") and all points in between. Is it jazz? Well, no, not really. It doesn't matter though. Sonically, it couldn't sound better. Ray Ellis' lush orchestral arrangements are definitely the 'satin' here, no doubt about it. The bass response is excellent, and Holiday's voice (or what's left of it) is a perfect match for the material she's singing.
Lady in Satin is one of the first three 180-gram vinyl releases from Classic Records commemorating the 50th anniversary of the LP. As per usual, it lives up to expectations and then some. The packaging is beautiful; from the cover to the famous '6-eye' Columbia label. There was no surface noise at all on this pressing. The only things missing are the bonus tracks found on the recent Sony CD. But on a record like this one, you just can't beat the warm sound of vinyl.