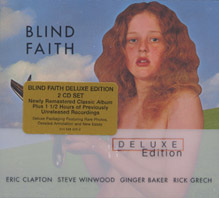 When you look back over time at the various rock 'supergroups,' the one that really started it all was Blind Faith. Consisting of Eric Clapton and Ginger Baker (Cream), Steve Winwood (Traffic) and Rich Grech (Family), the group created one of the true landmark albums of the rock era. Thirty-two years later, this classic album has been reissued on two CDs with an unprecedented 90 minutes of additional music. The deluxe edition includes a newly remastered version of the original album, plus two different versions of "Sleeping in the Ground," an electric version of "Can't Find My Way Home," and five extended studio jams.
As was the case with the recently reissued Frampton Comes Alive, the deluxe edition of Blind Faith is loaded with extra material. There are new expanded liner notes, rare session photos, and the cover art from both versions of the album--the controversial original cover with the 12-year-old girl and her airplane, and the later version which featured a black and white photo of the group taken at Clapton's home in Surrey.
Unlike the Frampton reissue, this one will appeal more to the collectors out there. While it's always great to have extra material included, the studio jams meander on for over 12 minutes each and never really go anywhere. The other outtakes are well worth a listen; but unless you're a major fan, you probably won't feel the need to hear the jams more than once. If you're not interested in the added material, the album is still available (newly remastered) in its original form as well.