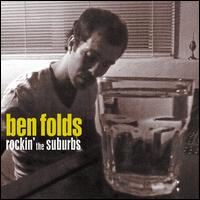 Every generation needs a songwriter who tells it like it is, and Ben Folds just might be the mouthpiece of twenty/thirty something middle class angst. As the front man for the successful trio, Ben Folds Five, Folds and company scored big with Joe Jackson-esque tunes like the melancholy "Evaporated," the quirky "Song For the Dumped," and the hard hitting (no pun intended) "Brick." Now, Folds is taking his turn as a solo artist.
Rockin' the Suburbs is an ambitious, yet fulfilling collection of tales from the depths of suburbia. Each vignette honors topics such as breakups, layoffs and growing up--topics that most of us can relate to. Where the 80's had the likes of Bruce Springsteen and John Mellencamp appealing to the working class masses, Folds appeals to the modern day not-so-grown-up grown ups struggling to make a life for themselves.
While each tune weaves its own tale, Folds tells an individual story on each one. Songs like the bittersweet "Annie Waits" and "Losing Lisa" tackle serious issues with a dash of jaded wit. On "Zak and Sara," Folds sings, "Sara spelled without an 'H' was getting bored, on a PB amp in 1984. While Zak without a 'C' tried out some new guitars, playing Sara without an 'H''s favorite song…" Complete with Beach Boys/Jellyfish inspired harmonies, "Zak and Sara" could become the Brenda and Eddie of a new generation.
Folds displays a softer, sensitive side on a few of the songs too. In "Fred Jones Part 2," we meet a man who symbolizes the monotony, anonymity and even cruelty of the daily grind. The sentimental "Still Fighting It" sums up Folds philosophy best. It also proves to be a "Cats in the Cradle" or "Father to Son" of a new generation with honest and timely lyrics.
With "Rockin' the Suburbs," Folds has produced a truthful, yet fun album; and one that is not meant to be taken too seriously--much like Folds himself.