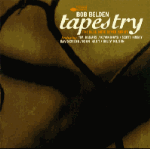 Blue Note came up with a great idea last year when they started their Cover Series. The concept is to have an artist do an instrumental jazz interpretation of a classic pop album. One of the latest in the series is Bob Belden's version on the 1971 Carole King classic, Tapestry. In keeping with the original concept, Belden kept the sequencing of the songs intact. Therefore, the album starts with "I Feel the Earth Move" and winds up with a killer 12-minute version of "You Make Me Feel Like a Natural Woman."
Considering the fact that this is one of the most popular albums of all time, he couldn't have asked for better material to work with. His approach to the tunes gives the album a hip, new feel; while retaining the innocence and intimacy of the original songs. The musicianship on the CD is outstanding. "I Feel the Earth Move" has a funky new feel to it, and is the first of several tunes on the CD featuring the talents of guitarist John Hart. "So Far Away" and "Home Again" are performed in the adult contemporary vein, but are both tasteful and nicely done. "It's Too Late" is done with a hip-hop rhythm behind it, and as strange as that may seem-it works.
"Where You Lead" is another standout cut, and features Stefon Harris from Charlie Hunter's new band on vibes. Harris can also be heard on "Will You Still Love Me Tomorrow." Trumpeter Tim Hagans is outstanding on "Smackwater Jack," yet another of the many highlights. Belden wisely saved the best for last though. His take on "You Make Me Feel Like a Natural Woman" is a rave-up of a tune. Everyone playing on the track gets the chance to stretch out and show their chops. Billy Kilson's drumming on the track is absolutely phenomenal.
Tapestry is the fourth title in Blue Note's Cover Series, and so far, the best of them all. Carole King fans may or may not appreciate what Belden has done, but jazz fans (especially fans of Miles Davis' electric period, and/or Weather Report) will love it.