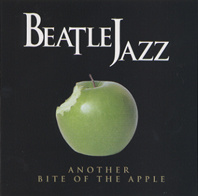 You know, I'm always leery of jazz artists who try to remake rock tunes. Either they go off on some unrecognizable tangent, or the songs end up as tepid elevator music. The latest effort from Beatle Jazz falls somewhere in between. The premise here, as it was on their first disc, is to take Beatles song and present them in the classic jazz trio setting (piano, bass & drums). Naturally, some songs adapt to the jazz setting better than others. "Here, There and Everwhere" works well in a laid-back arrangement, as does "Give Me Love" (although it's technically not a Beatles tune)
One of the highlights on the CD is the almost reggae-ish rendition of "Let it Be." The lightly swinging song features a beautiful solo by bassist Charles Fambrough. Another high point on the CD is "Magical Mystery Tour." Although it tends to stray from the melody a bit, the teases of "Norwegian Wood" are a welcome surprise. "It Won't Be Long" sticks fairly close to the original melody, and Brian Melvin does a superlative job on the drums. "Blackbird" is nicely done as well, with just enough improv thrown in to keep the jazz lovers happy and still hold the interest of the diehard Beatles fans.
Other songs like "Michelle" and "Julia" are strictly elevator fare. Pianist Dave Kikoski turns in inspired performances on both tracks, but the melodies tend to get lost somewhere along the way. "Blue Jay Way" and "Tomorrow Never Knows" are almost unrecognizable. If you're a Beatles fan, Another Bite of the Apple is sure to peak your interest, but in the long run, it's probably not something you'll pull out more than a few times. However, jazz fans (who may or may not be into The Beatles) will find this CD more enjoyable.