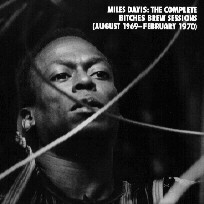 When Miles Davis released Bitches Brew in April 1970, he set the music world on its ear. No one had heard anything quite like this before. The music went far beyond all the limits of jazz and rock, and created a new genre--fusion. The six tracks that made it to the original double album (which in itself was a rarity for a jazz artist) were recorded over three days in August 1969, and then assembled from various takes in the studio. The rest of the material included here features largely the same musicians, but in different sessions over the next 6 months.
Bitches Brew was never an easy listen. Challenging? Yes. Easy? No. This is not background music. It demands your attention. Making matters even worse, the sound on the original album was muddy at best. It was all you could do to try to decipher one instrument from the next. Forget all that. The difference in sound quality on the new Mosaic box will blow you away. Nearly 30 years later, this material sounds better than ever. Even if you think you know these tracks, you'll hear something new when you hear the new Mosaic pressing.
In addition to the six original selections, The Complete Bitches Brew Sessions also features nine unreleased tracks, alternate takes, and tracks from previously released LPs. Of the unreleased tracks, "Corrado," "Recollection," and the alternate version of "The Little Blue Frog" are highlights. Not all of the new material stands up to repeated listens, however. Unless you're a fan of repetitive Indian music, stay clear of record three. These tracks never seem to get off the ground. Aside from that, you won't be disappointed in the extra tunes. And like the rest of the box, it sounds great.
In case the music isn't enough, the box also come with a full sized 20-page booklet--loaded with insightful essays, tons of rare photos, and complete liner notes for the entire collection. Bitches Brew is a dark and eerie record, to be sure. Don't try to take it all in at once. You may need to hear it a few times before you really 'get it.' Like I said, it's not an easy listen. But there's a reason that it became the first gold record of Miles' career. Once you hear this newly remastered version, you'll understand why.
For information on how to order The Complete Bitches Brew Sessions, send an email to Mosaic Records at mosrec@ix.netcom.com.