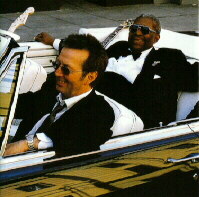 This one's a no-brainer, folks. Put B.B King and Eric Clapton in the same studio and you're pretty much guaranteed something great. Riding With the King is just that--a great blues album. It doesn't matter whether you prefer traditional or contemporary blues, you won't be the least bit disappointed with this CD. Starting with the rocking title track and going all the way through to the Johnny Mercer standard, "Come Rain or Come Shine," the album gets off to a great start and doesn't falter a bit.
Set alongside four B.B. originals, Riding features inspired covers of R&B and blues classics like "Hold On, I'm Coming" and "Help the Poor" (which King covered on his Live at the Regal disc), and acoustic versions of "Key to the Highway" and "Worried Life Blues." The two biggest surprises are the Doyle Bramhall II tunes, "Marry You" and "I Wanna Be," both from Bramhall's latest solo effort, Jellycream. "Marry You" was one of the weaker tunes on Bramhall's album, but it takes on a whole new life with the blues masters taking charge.
The album has a natural, laid-back feel to it that you only get from two veterans at the height of their craft. I don't normally make predictions in reviews, but I can see this one coming from miles away… Next year at the Grammys, Riding With the King will take the award from both Best Traditional Blues and Best Contemporary Blues albums. I'm not sure if a single album has ever won in both categories, but this one seems like a sure winner for both of them.