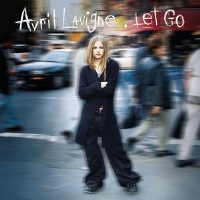 In a sea of girl pop with purpose, Canadian singer Avril Lavigne somehow manages to keep her head above water with Let Go. A mere seventeen years old, Avril already has the talent and songwriting chops to make the likes of 'twenty-something' Britney Spears green with envy. Lavigne is likely to be lumped in with Michelle "Everywhere" Branch or Vanessa "1,000 Miles" Carlton, yet this self proclaimed skater chick is clearly intent on taking a trip down the long road to success.
Let Go has an unapologetic, invincible quality felt on every track. Lavigne, the songwriter, seems to have it all figured out--both lyrically and literally. "Complicated" is her hit du jour, a catchy ditty about the many faces of love. In fact, much of Let Go is recorded in this vein, walking the border between insecure angst and brazen self reliance.
On "Losing Grip," Lavigne weaves an all too common tale about the boy who did her wrong, while "I'm With You" gives us a glimpse into the introspection yet to come on Let Go's best tracks--"Tomorrow," a simplistic song about blind faith, and "Too Much To Ask," a mirror of male pride.
Elsewhere, fun runs rampant on songs like "Sk8er Boi," "Mobile," and the practically autobiographical "Anything But Ordinary." On "My World," Lavigne brings it all together, giving listeners a day in the life of a typical seventeen year old--who just happens to be a budding pop star.
Comparisons will surface, paying homage to the likes of a young Alanis or lesser known artists Melissa Lefton or Kendall Payne. When the dust settles, however, my bet is Lavigne will be left standing.