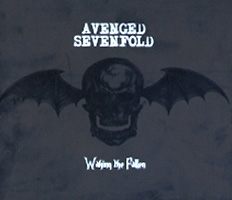 Heads up--80's rock is back, and it's been revamped. Avenged Sevenfold has introduced the populace to a new sound. Blending catchy riffs with a unique and varied musical dynamic, the band fuses metal and punk with 80's power ballad stamina. These elements, combined with lead singer, Shadow's smooth harmonies and blistering screams provide a truly impressive base for the group's poetic, heartfelt lyrics.
The bands style ranges from the almost operatic introduction of the title track, to the metal infused construct of "Unholy Confessions." The disc continues with the punk ballad, "Chapter Four," the intriguing, classical guitar work of "Eternal Rest," and a blend of metal with a decidedly Latin flavor in "Remenissions." Later in the disc, the sound becomes more sorrowful in the power ballad, "I Won't See You Tonight, Part 1," only to be resurrected with the final track, "And All Things Must Come to an End."
The band's versatility, as well as the ability to write lengthy songs that hold one's interest, create one of the most cohesive sophomore efforts I've heard to date. So, if you don't mind a little screaming every now and then, give it a try. There's bound to be something there that you'll enjoy, even if it's not your regular cup o' tea.