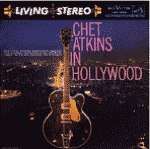 Have you ever had one of those days where you just want to put on some nice quiet music, kick back, and relax? You know the kind. Those days where nothing goes right. Your boss is all over your back for something that someone else did wrong. Traffic sucks, and it takes you three hours to get home from work, etc, etc. Well, I have just the album for you. Chet Atkins in Hollywood is one of those rare albums that have a way of calming you right down, no matter what kind of a day you just had.
From the beginning of the first track, "Armen's Theme," this album says "ahhhhhh." Originally recorded in 1958, the sound quality is superb. You can hear every little nuance in the music as if it were recorded yesterday. The string arrangements by Dennis Farnon and his Orchestra perfectly compliment Atkins' cheerful guitar on every track. Atkins is one of the true masters on the instrument, and even on a recording from 39 years ago, it's easy to hear what makes him so great.
The orchestral percussion on Hoagy Carmichael's "Little Old Lady" is simply exquisite. The dynamic range on the album is outstanding throughout the entire album, and the transients on "Estrellita" are incredibly smooth. One of the main things that make this album so great is the selection of material Atkins chose to perform. The songs possess an immediately comforting quality about them that few other albums can match. It's as if you've known these songs all your life.
Classic Records did their usual excellent job with this release. If they keep releasing albums like this one, they're gonna be around for a long time. Ahhhhhh....