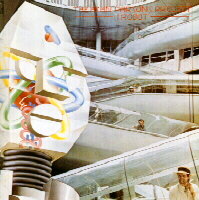 As I'm sure you already know, I Robot has been a staple in the playlists of stereo shops around the globe since its release in 1977. You could always count on an Alan Parsons album when you wanted to test a stereo system. Parsons is a true master of the studio, and to many, this album was (and still is) his finest hour. Well, now it's even better. Classic Records just released I Robot in D.A.D. format and the sound is even more spectacular than before. The CD version pales in comparison.
The album only produced one hit single, "I Wouldn't Want to Be Like You," a major success during the disco craze of the late 70's. Fortunately, the song gave the album the sales boost it needed, exposing Parsons and the rest of the Project to the masses. Naturally, the rest of the album is nothing like the single, ranging from the pulsing instrumental electronics of the title track, to songs that should've been hits but weren't ("Breakdown," which featured Hollies vocalist Allan Clarke on lead vocals), to the quieter songs like "Some Other Time" and "Don't Let it Show."
Where the D.A.D. really shines is on "The Voice." There are an unbelievable number of subtle nuances going on in this song, and you can hear each of them (plus several things that you couldn't hear before) with breathtaking clarity. The low end on this track in particular will literally shake the room. As the song segued into "Nucleus" and then "Day After Day," I was taken back to the days of Laserium; only I don't ever remember it sounding this good inside the planetarium. Maybe it was just the 70's…
Classic has done a consistently excellent job with their D.A.D. line, and I Robot surpasses all expectations. Turn down the lights, turn up the volume, and get ready to be blown away.
(Editors note: You must have a DVD player to listen to this disc.)