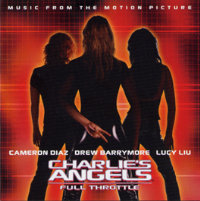 I'm not quite sure what to say about this CD. On one hand, it has an interesting new version of David Bowie's 1974 hit, "Rebel Rebel." That's a good thing (it's not as good as the original, but it's interesting). It also has the one and only hit from Edwyn Collins, "A Girl Like You." That's another good thing. Unfortunately, then you have the rest of the disc.
The disc starts off with a new radio-friendly track from Pink and William Orbit, based around a sample of Spirit's "Fresh Garbage." Nickelback and Kid Rock contribute an updated cover of Elton John's "Saturday Night's Alright for Fighting" that's sure to please fans of both artists.
From there, it's a rapid descent into classic rock hell with Bon Jovi, Journey, and Loverboy--with The Beach Boys sandwiched in between. But wait, just when you think it can't get any worse, Nas and Pharrell serve up the requisite hip-hop track, followed by the disco section of the disc. I can't imagine anyone listening to this CD from start to finish.
This soundtrack is a perfect example of musical schizophrenia. It's new & fresh. It's classic rock. It's hip-hop/disco. The one thing it's not is consistent. Unless you're a completist fan of one or more of the artists included here, skip this one.