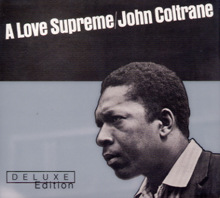 Recorded December 9-10, 1964, A Love Supreme marked John Coltrane's return to form after a long dormancy period. More than two years earlier, in the wake of Down Beat's 1961-62 crusade against "anti-jazz," Coltrane stopped composing for a time and placated his audience and the critics with such conservative releases as Ballads, John Coltrane and Johnny Hartman, and Duke Ellington and John Coltrane. This was the "period of irresolution" to which Coltrane refers in his notes to A Love Supreme.
But during these publicly quiescent years, Coltrane privately was undergoing a personal transformation, studying non-Western religions and practicing meditation. This period culminated in a powerful religious experience, captured in music as A Love Supreme. Coltrane later told his first wife Naima that everything he played afterwards was a "prayer." A Love Supreme made it possible for Coltrane and others to express religious feeling in jazz.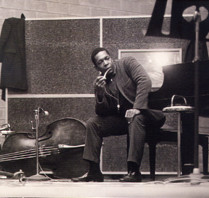 A Love Supreme is a highly programmatic work, consisting of a suite of four related movements which progressively describe in musical terms the course of Coltrane's spiritual reawakening. In the first, "Acknowledgement," Coltrane recognizes God's omnipotence. At the end of this movement, as an expression of humility, Coltrane chants the words, "a love supreme." Coltrane's renewal is then tested in the second movement, "Resolution." He conveys here a sense of struggle by juxtaposing rising improvised chromatic lines with the insistently descending lines of the theme.
In the third movement, "Pursuance," Coltrane depicts his triumph over adversity through use of rapid tempo, truncated phrases, and consistently rising lines. The last movement, "Psalm," is Coltrane's concluding song of thanks. In his notes, Coltrane tells his listeners, cryptically, that the poem printed on the sleeve has been "written in the context." He has set the poem to music, and invites the listener to read along as he interprets his own verses.
Previous CDs of A Love Supreme were taken from a second-generation source that had been EQ'd and compressed for LPs. For the new 2CD Deluxe Edition, Rudy Van Gelder has remastered the four originally released tracks from a newly discovered second-generation master tape found in EMI's London library. The greatly improved sound of these recordings alone justifies their re-release.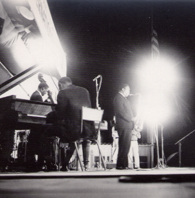 The second CD is all bonus material. Impulse! has included the only known live performance of the suite, with much better sound quality than the previous European releases. For the first time, it is now possible to hear all four instruments fully integrated into the mix. Also included are the beginning and ending announcements in French, as well as boos from the audience, disappointed that the concert had lasted only about 45 minutes.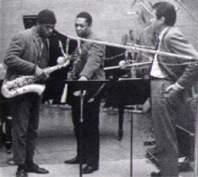 In addition to the live rendition of the suite, there are four alternate takes (three of them are previously unreleased) as bonus tracks. Coltrane returned to the studio the following day to record two additional complete takes of "Acknowledgement" with Archie Shepp (tenor sax) and Art Davis (bass) added to the group. Although these takes have never previously been released, listeners have for some time known of their existence. In the original liner notes, Coltrane acknowledges the contributions of the two musicians, and apologizes that their track "regrettably will not be released at this time."
According to a recent ICE interview with co-producer Art Druker, "[these were Coltrane's home reference tapes and] had been taped over on the other side so whatever was on the other side, you heard coming through in reverse. They're not perfect, but Rudy really cleaned them up. There are some dropouts on the first one, but the second take, in particular, sounds very good." Nevertheless, these takes give the listener the opportunity to witness Coltrane's second thoughts on what has become his signature theme--part of what is perhaps the greatest work jazz has yet produced.
Even if you already own a copy of the album in one of its many previous forms, the deluxe edition of A Love Supreme is a required addition to your collection.