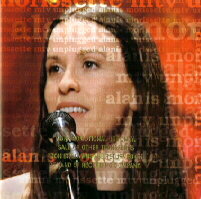 Well, after entirely too many years, MTV has finally resurrected its Unplugged series--this time with a new release from Alanis Morissette. Overall, she manages to pull it off, but her performance lacks the power and intensity of her live shows. "Baba" (which opened MTV's broadcast version, but is conspicuously missing from the CD) is the perfect example. It just doesn't have the same effect. Still, the disc is better than the TV commercial would lead you to believe. As you'd expect, some of the songs work better in the acoustic setting than others.
The best tracks are "You Learn," "Head Over Feet" (aside from the two-note harmonica solo--Alanis, please take some lessons…), and her Zeppelin-esque contribution to the City of Angels soundtrack, "Uninvited." In addition to most of the hits from her last two CDs, the CD includes three previously unreleased tracks (in the U.S. anyway) and a cover of The Police's "King of Pain." Of the three new tracks, the best is "Princes Familiar." On "Ironic," Morissette sounds bored. She incorporates more of a stream of consciousness vocal style into the song, which unfortunately comes across here as little more than whining.
Like most of the Unplugged sessions, the biggest problem with this CD is that it's interesting the first few times you hear it, then it's just boring. Definitely a hit and miss affair, Morissette would've been better off releasing an electric live album (even though it's a bit early in her career to do so). It would have been much more indicative of what she's like in a live setting. Her fans will probably love this CD, but anyone who doesn't fit that description will probably like her less after hearing it. It's not bad, but it's not great either.