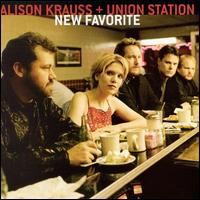 Alison Krauss + Union Station are one of those rare acts that alternate between solo outings and group efforts almost effortlessly. On their latest attempt, New Favorite, the group is back together again and creating songs that give everyone a turn in the spotlight, despite their somewhat misleading name. Though the angelic voice of Alison Krauss is undoubtedly the mainstay of the band, the members of Union Station are all accomplished musicians in their own right. The Union Station is comprised of Jerry Douglas, Berry Bales, Ron Block and Dan Tyminksi, most noted for recently lending his vocal talents to George Clooney's character in, O' Brother Where Art Thou?
"Let Me Touch You For Awhile" is one of many quiet, comforting tracks that play like hay tumbling down a deserted highway. The male dominated side of AKUS however, dabbles with pure country on tunes like "Momma Cried," and the chuckle worthy title, "The Boy Who Wouldn't Hoe Corn." "Crazy Faith" and "I'm Gone" are simply arranged songs that de-emphasize on the twang and instead place emphasis Krauss's sweet vocal presence. Finally, there is the title track, where Krauss's breathy whisper soars the most, and in turn, where the heart of her aching rendition is truly felt. Part Cowboy Junkies, part Sundays, this is by far the best song on the album.
Although AKUS juggle a few different sounds they still have a largely predictable, nearly cyclical array of offerings, ranging from slightly country to all out musical hoedowns. New Favorite might not hit high notes with all music collectors, but it should please bluegrass and Alison Krauss + Union Station fans just fine.