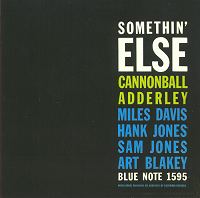 Back in 1958, Julian "Cannonball" Adderley stepped into the studios of legendary jazz producer Rudy Van Gelder and produced what many consider to be the finest record of his career, Somethin' Else. This album was recorded just before Adderley joined forces with Miles Davis for the Kind of Blue sessions. Although Blue Note recently reissued this CD as part of their new RVG series, if you want the best sounding version available, the DAD is the one to own.
One of the first things you'll notice on the DAD is the vast channel separation. When Van Gelder remastered this disc a few months ago, he eliminated most of the separation, creating an almost mono effect. Although Van Gelder claims this is the way it was meant to sound, anyone who's been used to the 'full' stereo version for all these years will be disappointed in the RVG version.
There's really no point in attempting to review the individual songs here. The music speaks for itself. The RVG disc has new liner notes and photos that don't appear in the DAD booklet, along with the story of "Bangoon" (formally known as "Alison's Uncle"). If you want new liners & photos, go for the RVG edition. But if you want the best sounding version available of this jazz masterpiece, spend the extra cash and pick up a copy of the DAD. It's worth every penny.
(Reviewer's Note: D.A.D.s are not compatible with standard CD players. You must have a DVD player to play this disc.)